Why does my website need
an SSL Certificate?
Your website needs an SSL certificate to keep user data secure, verify ownership of the website, prevent attackers from creating a fake version of the site, and convey trust to users. Recently Chrome and Firefox, among other browsers, have begun issuing warnings for sites without an SSL certificate (HTTP vs HTTPS). Those browsers will flag your website as "insecure" even if you don't collect sensitive information on your website. Additionally, Google recently announced SSL is a ranking factor in its Search Engine Optimization algorithm, so unless you have an SSL certificate on your site, it will be harder to find your website on Google impacting your traffic and revenue.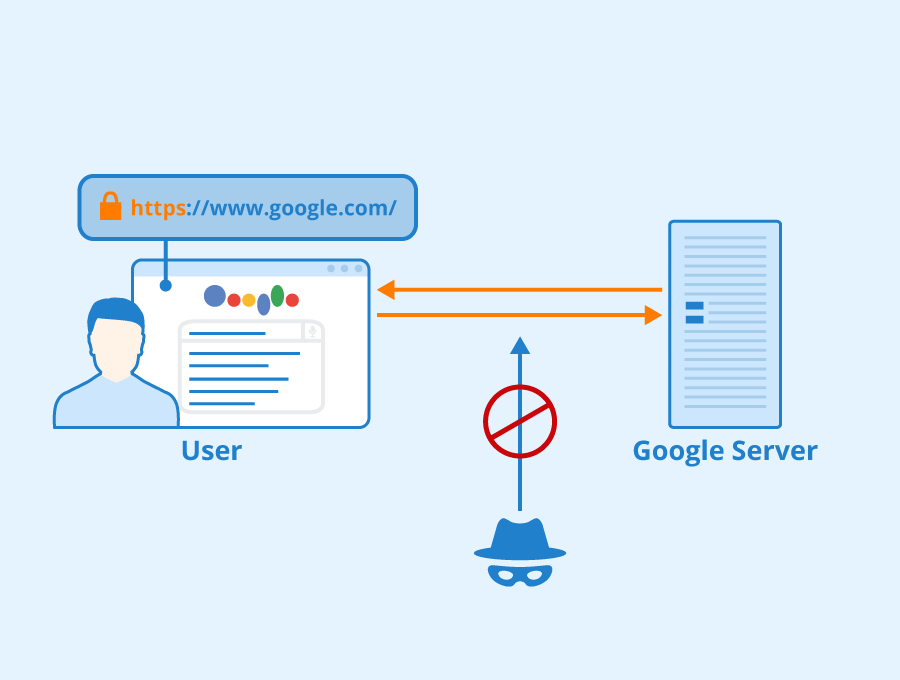 Benefits of Our SSL Certificates
Go with the best, with HostGo, as you can expect premium service and outstanding support with your website domain, hosting and much more.   When registering an SSL Certificate with your website domain, you will receive:
Rock-solid Security

with up to 256-bit encryption for data protection and maximum visitor security.

Increased Customer Confidence

because customers actively look for the SSL lock before entering sensitive data.

Improve Search Ranking

because Google values an SSL Certificate in its ranking on your online business.

Site Seal

that serves as a constant reminder your customer is protected on your website
Types of SSL Certificates
Domain Validation
Domain validation is the most basic type of SSL. This type of certificate is issued quickly and only involves a simple domain ownership check however they provide fewer additional features. Domain validated certificates are generally the least expensive.
Organization Validation
Organization validated SSL certificates include verification of the organization behind the domain. This extra step provides a higher level of security and lets customers know they can trust your website with their personal information.
Extended Validation
Extended validation is the highest level of validation available. The certificate authority conducts an in-depth verification of your business before issuing the certificate. This type of SSL displays a green bar in your visitor's address bar, earning the highest degree of user trust.
Frequently Asked Questions
What is an SSL Certificate?
SSL Certificates are a digital certificate issued by a central authority. Depending on the type of certificate they verify ownership of the domain name, organization existence, or in-depth organization verification.
What browsers are supported?
All major browsers support the use of SSL Certificates. Browser support will vary slightly between different brands and certificates, view the certificate details for more information.
Do you install the certificate for me?
When ordering an SSL certificate for a HostGo cPanel & WHM, Plesk, or DirectAdmin hosting account, our system will fully automate the SSL provisioning process. In some cases, such as orders for OV and EV SSL certificates, additional steps to complete the extended validation may be required. If you need assistance with installation or renewal or the certificate is not on a HostGo server, we recommend our Managed SSL Certificate addon for $29.95/year. With our Managed SSL Certificates, we install and renew your certificates annually. We also monitor your SSL to make sure it doesn't expire and cause security warnings to your visitors.
What if want to upgrade my certificate?
The manner in which certificates are issued does not allow for upgrading an existing certificate, however a new certificate can be issued.
Why should I buy a SSL Certificate?
The main reason to purchase a certificate is to encrypt the connection between your server and visitors. In 2014 Google started factoring certificate use in it's search results. The use of SSL Certificates is also very important when collecting sensitive information, such as payment details, from visitors. Certificates help to verify you are a trusted business, increasing user confidence, and online sales.
Does one certificate cover all of my domains?
Depending on the certificate it can be issued for multiple domain names. You will need a certificate supporting SANs, for more information contact us.
Why do some certificates take longer to issue?
Organization and Extended Certificates go beyond domain certificates, and verify the existence of your business. This process is completed manually by a verification specialist over several days. These certificates once issued generally offer a higher conversion rate as a result of the verification.
What is the difference with Wildcard SSL Certificates?
Wildcard SSL Certificates are issued to all subdomains in addition to the base domain name. This allows you to use the same certificate with several address such as blog.example.com, store.example.com and www.example.com. Extended Validation certificates do not support wildcards.